Posted Fri Dec 31st by Monty
Another year has come and gone at Dove Valley. 2010 was a year of change in Denver — it's something Broncos fans have been hearing for years, but just think and marvel on how very different this team is from the group that started the year 364 days ago. New coach. New quarterback (it is assumed), and more changes from top to bottom on the near horizon. It was a chaotic year filled with controversy, hope, disappointment, and tragedy. Here is our list of the Top 10 Stories that defined the Denver Broncos in 2010, Part One: 10-6. (View 1-5).
Defensive coordinator Mike Nolan's unexpected departure in January left the Broncos with a big hole to fill. No one knows all of the details, but the promise of the Broncos' hot 6-0 start under Josh McDaniels in 2009 was largely led by Nolan's stifling defense. It was a shame — a mysterious, devastating shame — Nolan and McDaniels couldn't find a way to work together and improve in 2010. To make matters worse, Nolan wasn't alone — running backs coach Bobby Turner, who held that position for 15 years, and offensive line coach Rick Dennison left the Broncos in January to coach elsewhere.
"Someone needs to point out that not only are the Denver Broncos going the wrong directing as an organization, they're about to lap themselves." Days after the team's lackluster London loss to the San Francisco 49ers, it was revealed that Broncos director of video operations Steve Scarnecchia had violated NFL policy when he videotaped a portion of the 49ers' pregame walkthrough. It was required of McDaniels to report the incident when he found out, but he didn't. That's where the former head coach's involvement in the scandal began and ended — we're told the tapes were never used to the Broncos' advantage — but it was more than enough for the NFL to hit both he and the Broncos with $50,000 fines each and ultimately contributed to owner Pat Bowlen's decision to let McDaniels go.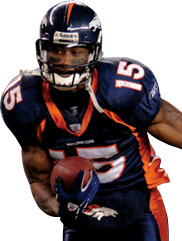 Not since Jay Cutler had the Broncos experienced such a polarizing player. (Okay, that's not a very long time, but Marshall's exodus from Denver was significant nonetheless.) Marshall's tenure in Denver was dramatic, controversial, and tumultuous, and the off-field issues ultimately became too high a price for his on-field productivity. We would have ranked the departure of this Broncos star higher, but Denver received a small fortune (two 2nd round draft picks) from the Miami Dolphins, and Marshall's absence on the field was hardly felt in 2010 (see WR Brandon Lloyd, Pro Bowler). So long, Beast.
A pectoral tear in training camp would deny the NFL's 2009 sack king the opportunity to defend his crown. The impact of Dumervil's injury would be felt by the Broncos all season long.
If Kyle Orton had ever been a Broncos' first round draft pick, one wonders how differently he would be considered among the Denver fanbase. To start the season, the unappreciated #8 was on pace to smash franchise passing yardage records and was even threatening NFL marks. However, he wasn't able to execute when it counted most — on game-winning drives, or on third downs, and (fairly or not), a brunt of the blame for the Broncos' lack of success in 2010 was placed on Orton's shoulders. A rib injury put rookie Tim Tebow on the field for the Broncos' last three games, and after last week's thrilling comeback victory, it's seriously doubtful Orton will ever see the field in a Broncos uniform again. The Broncos extended Orton's contract through 2011, and Orton proved he had earned it — but, in all likelihood, he'll be cashing checks made from another team following a trade in the offseason.
Check back for our conclusion of the Top 10 Stories of 2010 in 2011… tomorrow, that is. (UPDATE: here you go). Have a happy and safe New Year everyone, and go Broncos!