Posted Wed Apr 14th by Monty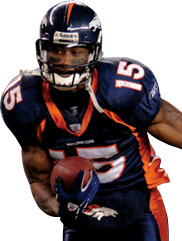 Wide receiver Brandon Marshall's tumultuous, spectacular, and controversial career as a Denver Bronco has come to an end.
The Broncos on Wednesday agreed to trade Marshall to the Miami Dolphins for two second-round draft picks, ESPN's Adam Schefter reports. The Broncos will receive the Fins' 43rd overall pick in the 2010 draft and an additional second round pick next year.
Per Schefter, the trade is contingent upon Marshall passing a physical in Miami Wednesday. The Dolphins are expected to sign him to one of the "most lucrative wide receiver deals in NFL history."
A 2006 4th round draft choice of the Broncos, Marshall asked for a trade during the 2009 offseason but played through the season. In four calendar years with the Broncos, Marshall had multiple run-ins with the law and was suspended for one game in 2008. He also had back-to-back 100-catch seasons, netting him Pro Bowl honors in 2008 and 2009.
Barring a face-off in the 2010 playoffs, the Broncos are next scheduled to play the Dolphins in 2011.
Another long-rumored unhappy camper is out of Dove Valley. For one reason or another (or, say 12), Josh McDaniels and Pat Bowlen decided signing Marshall wasn't worth the risk, and now Marshall gets to head back to his home state. We're sure The Beast is thrilled; many Broncos fans aren't.
One thing's for certain: the Broncos don't have a veteran player packaged into this deal like they had when they traded Jay Cutler (Kyle Orton). If they don't capitalize on those draft picks, this deal is a disaster. And that's not a particularly comforting thought, given last year's draft class' production.