Posted Fri Nov 13th by Monty
This isn't about statistics.
Peyton Hillis didn't tabulate very many while the Denver Broncos were 6-0, but that didn't matter, because the Broncos were winning.
This isn't about favoritism. It's true that Hillis became extremely popular after he was thrust into the starting lineup in 2008, but winning trumps all. It's only after the offense has sputtered and the team has lost two straight that it's time to bring up the diminished role of this fan-favorite.
This isn't about football politics. Knowshon Moreno may be the team's first round pick, and Hillis may be a seventh rounder from a year ago, but let's take draft statuses and paychecks and throw them out the window. Let's evaluate the Broncos' bench and see who can be of use to help this offense get on the right track. Let's take a close, hard look at the facts about this season and the production the running backs have enjoyed in 2009 compared to Hillis in 2008.
This is about producing offense, scoring points, and winning football games, and the Broncos haven't done much of any since October 19th. And the answer to much of what ails the Broncos offense is sitting, underutilized, on the bench.
The answer is Peyton Hillis.
The Broncos are making a move at left guard. Ben Hamilton, the longest tenured Bronco, a starter in every game in which he was healthy since 2002, will be sidelined while Russ Hochstein gets the nod. I'm not a fan of Hochstein, and am not fully confident he will do better than Hamilton. When you can't rely on your backup to outperform you starter, shuffling the offensive line isn't the answer.
Peyton Hillis is the answer.
Consider how the Steelers followed the Ravens' blueprint and took advantage of Hamilton's struggles. Repeatedly C Casey Wiegmann would slide over to help Hamilton double-team a Pittsburgh defensive lineman. Repeatedly Dick LeBeau sent a linebacker on a delayed blitz up the A gap, right at the spot Wiegmann was moments ago.
In these situations, if Wiegmann can't disengage and make the block, the running back needs to pick up the blitz. Moreno was putrid in this area. Awful.
Peyton Hillis would do better.
Some suggest the Broncos make a change at quarterback. Chris Simms' better arm strength and mobility would give the offense a spark, they say.
I say Kyle Orton has done a bang-up job. He certainly hasn't been explosive, but that doesn't mean he's incapable of being explosive (a perfectly-placed deep bomb that went straight through Brandon Marshall's hands in Week One comes to mind).
Against the Steelers, Orton had his worst outing, but a closer look at all the variables shows that he is not solely to blame. As Moreno gets knocked off his crossing route and Orton throws his first "real" interception of the year, one understands that Moreno could have done a better job recovering from the block and following through with his route. Orton shouldn't have thrown that ball, but Moreno needs to do more to avoid leaving his quarterback hanging out to dry.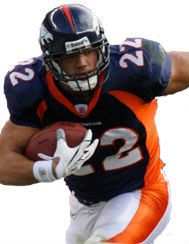 Peyton Hillis wouldn't so easily be knocked off his route. And the improvement in pass protection Hillis would provide would give Orton time to do better.
Changing quarterbacks isn't the answer.
Peyton Hillis is the answer.
Finally, we've discussed why Hillis would improve the passing game, both in receiving and pass protection. But we have yet to address the primary role of a running back — running the football. A running attack takes pressure off the quarterback, keeps defenses honest, and opens up the play action. In order to open up this stuttering Broncos offense, an effective rushing game has to be found, and the numbers indicate Hillis was a better rusher in 2008 than either Correll Buckhalter or Moreno have been in 2009.
Moreno is rushing for 3.7 yards per carry, while Buckhalter is tallying a much-more-impressive 5.5 ypc. In 2008, Hillis averaged 5.0 yards a pop, so we'll give the edge to Buck there.
But a closer look at the "smarter stats" (you had to know this was coming) shows that Hillis is more successful when carrying the football. In 2008, Hillis' rushing DVOA was 41.0%, third-highest in the league (among running backs with 20-99 carries). Moreno is -8.3% in 2009, while Buckhalter is 5.9%. Edge: Hillis in a landslide.
Hills also excelled as a receiver out of the backfield, ranking second with a 55.7% DVOA. Moreno is a dreadful -47.3% (significantly less productive than the average NFL running back), while Buckhalter is 16.3%. Edge: Hillis.
The numbers don't lie. When given the appropriate focus in the offensive gameplan, Peyton Hillis is a dynamic weapon.
Running the ground game in neutral isn't the answer.
Peyton Hillis is the answer.
Better rushing attack. Better pass protection. Better route running. It's really quite simple.
It's not about stats, politics, favoritism or pride. It's about improving this football team. You have a diamond in the rough in Hillis, Josh McDaniels, one you have yet to unleash in 2009. A tough rusher, potent blocker, and underrated route runner with good hands. Use him. And watch this offense flourish.