Posted Wed Nov 11th by Monty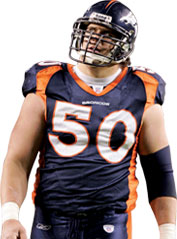 It's been a rough couple of weeks for the Denver Broncos, but none have had a rougher outing than starting left guard Ben Hamilton. He was abused against the Ravens' and Steelers' defensive lines, a significant factor in the offense's measly 10-point production in that two-loss span.
Now, the Broncos might be making a changing of the guard. Frank Schwab of the Colorado Springs Gazette reports —
During the period of practice that is open to the media, Russ Hochstein took repetitions with the starting offense during individual work, while Ben Hamilton worked with the second team. No announcement has been made on a starting lineup change and the Broncos' official depth chart still lists Hamilton as the starter, so a move has not been made official. However, when the Broncos' first-team line was working as a unit, Hochstein was the left guard.
The move makes sense beyond the face-value-benefit of getting a struggling blocker off the field. As the Broncos move from their zone blocking scheme to more power blocking looks in the run game, the speed and athleticism of the offensive linemen become less valued than, say, size and power. At 305 lbs., the 6'4″ Hochstein has 15 lbs. on Hamilton, who is also 6'4″.
Also, the fact that Hochstein — and not rookie G Seth Olsen (6'5″, 309 lbs.) — is getting this first chance to usurp Hamilton on the depth chart is just another sign that Josh McDaniels values veteran experience over youthful exuberance (see: Williams, Jack).
Again, nothing's official yet, but it'd be surprising to see the Broncos NOT do something in this area. I'm not a Hochstein fan, but something has to be done. As a huge Hamilton fan, it hurts to admit it, but the writing has been on the wall. Hamilton has really struggled, so it's time to see if someone else can do better. Stay tuned.
Changing of the left guard? [Colorado Springs Gazette]