Posted Tue Sep 11th by Monty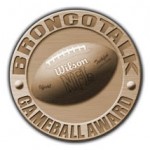 Broncos 31, Steelers 19 — you know what a victory means, fellas. Give out your BT Game Balls!
Peyton Manning

For a guy, after 600+ days since he last took a meaningful snap, to come out against one of the league's most respected defenses and play flawlessly is amazing. Tim Tebow who? And I loved Tebow, but I had forgotten what a truly great quarterback can do for a team. What Peyton Manning did was keep the Steelers consistently backpedaling, constantly fearing the end zone behind their shoulders. His 73.1 completion percentage is all the more impressive when you consider the Broncos were in the no huddle for much of the game. His 129.2 passer rating is impressive, period.'
Oh, and Manning showed he can run if need be, too. 10-6 sound about right? I'm feeling like Peyton Manning is money in the regular season and 10-6 seems a bit low… I hope he lasts for at least four years in Denver! – Tim Lynch
Tracy Porter
As impressive as Peyton Manning's Broncos debut was, there was another free agent making a name for himself for the first time in a Broncos uniform — cornerback Tracy Porter. Porter started opposite Champ Bailey; as Broncos fans know, there isn't a bigger set-up for failure than that position in the entire NFL. With 2-4 staring at quarterbacks in the face, who can blame opposing signal callers for choosing to throw the other direction?
And Porter got picked on — I think Bailey was only targeted two, maybe three, times, while Roethlisberger continually threw Tracy's way. The result? Eight tackles. Five pass breakups. One interception returned for a 43-yard, game-winning touchdown.
Talk about rising to the occasion. Porter's Broncos debut was just as impressive — perhaps even moreso, than Peyton Manning's. TFP, baby. – Monty
Von Miller

The guy was in Ben Roethlisberger's face all night, taking advantage of a weakened offensive line. For three quarters, he couldn't quite break through, but he was chipping away until he painted his masterpiece towards the end of the game when it really counted. Miller got past Mike Adams (the Steeler — and, incidentally, the Bronco, who was one step behind on a safety blitz) to take down Roethlisberger twice in the game's final series.
Miller capped the whole thing off by what is being referred to as Tebowing, but may have to be redubbed Millering at the rate Von is sacking people. – Ian Henson
Demaryius Thomas

I was in the camp that thought Eric Decker was going to have the best relationship on the field with Manning, but in one game, it's looking like Thomas is the real beneficiary of that. It's possible that Decker is more on the page with Manning, but when Thomas gets the ball in space, he's been able to really make something of it.
Both Decker and Thomas had 5 catches, but Thomas turned his catches into 110 yards and a touchdown, where Decker only had 54 yards. Additionally, Decker had a couple of Peyton's incompletions, though all of the ones I remember were in pretty heavy traffic and I'm not sure I'd actually hold it against them that he didn't get them.
Rod Smith is calling Thomas "Optimus Prime", which may be overly optimistic, but he could have a very, very good season catching balls from Manning. – E. Halsey Miles
Zane Beadles and the offensive line
For the most part the Broncos pass protection was superb. Manning had a enough time to deliver the ball to his targets. What was the most impressive part of the offensive line was Zane Beadles all the way down the field blocking for Demaryius Thomas on his sprint to the end zone. This is the kind of hustle that gets you an All-Pro nod, or at least a game ball on Bronco Talk. Chris Kuper had to be smiling from the sidelines. – Mr. East
The Broncos may have not rushed for over a 100 yards, but the offensive line deserves credit for doing a great job protecting Peyton Manning (only two sacks) and playing up to size in the trenches when the Broncos needed them the most. With Kuper scheduled to come back in the following weeks, the Broncos could be poised to have one of the best units in the National Football League. – Christopher Hart
Those are our game balls, folks — who gets yours?