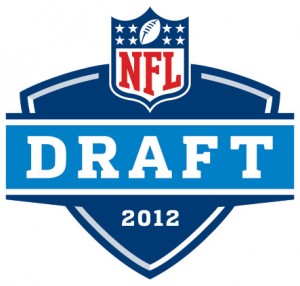 Pick nine is in the book, today we move on to number ten.
Get all of look of the whole schedule and previously selected players here.
Last three picks
7. 

 Melvin Ingram, DE, South Carolina
8. 

 Morris Claibourne, CB, LSU
9. 

  Quinton Coples, DE, North Carolina
Today's GM is Brent T.
With the tenth pick of 2012 Interactive Mock Draft, the Buffalo Bills select…
10.

 Michael Floyd, WR, Notre Dame
While we are firm believers in the school of thought that says you need elite players at QB, LT, DE, and CB.  We feel equally firmly that we have all those pieces with the exception of cornerback.

After all we paid huge money to Ryan Fitzpatrick who has $24 million in guaranteed money coming, and made a big splash to get Mario Williams in free agency.  Most mocks had us taking a left tackle, but after Ryan Kalil we feel no one warranted a high first round pick as they are only above average pass blockers.

Having to choose between Floyd and Janoris Jenkins, an exceptional cover man, was a difficult decision.  However, our entire offense is predicated on our ability to "spread" the field vertically in the passing game.  You cannot do that with one starting caliber wide receiver under contract.

In this case we get a player who we had graded higher than Justin Blackmon.  Is a far superior athlete, as his combine results will attest to, and his production backs it up, posting back to back 1,000 yard seasons of 12 and 9 touchdowns.  He is a big and physical pass catcher that can create mismatches against smaller DB's, and will provide another weapon opposite Stevie Johnson for Fitzpatrick to utilize.

In the end we feel we have added another weapon to add to what we have with an already stacked backfield.  We should have no problems putting points on the board in 2012.