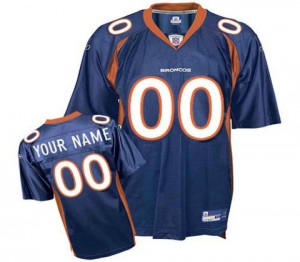 I wrote an article a few months back before the Marshall trade that detailed my lack luster judgement when it comes to purchasing jerseys. The basic gist is that every player whose jersey I bought has been let go or traded (or retired, damn you Plummer). Every single purchase.
It is obvious that I am not capable of making these decisions alone, I mean I was this close to buying a Marcus Thomas jersey once. What the hell is wrong with me? Did I once unknowingly buy a Mike Shanahan jersey? It is clear that I need proper guidance, the only kind of guidance other Bronco fans can provide.
Aid me in my quest Bronco fans. Which player's jersey should I buy for this season?
Don't you even think Ryan Clady.
 
The Quest Begins
What about the future?
It is well known that Tim Tebow has been dominating the realm of jersey sales ever since he's been drafted. Even Kyle bought a Tebow jersey. The Teebs is just that competitive. The guy hasn't taken a live NFL snap and he's beating up on Donovan McNabb and Super Bowl MVP Drew Brees. While this is fantastic for my boy Tebow, I don't think I'm feeling the bandwagon. I'll need to look elsewhere for my new attire.
Looking far and Wide
Foot injuries be damned! Eric Decker is getting healthy and Demaryius Thomas is already back. Is a jersey purchase in order to cheers to good health? I don't like to announce this, (due to my fear) but I have an Eddie Royal jersey. The thing is, I myself didn't buy it, but I did get it before the start of the last season. Is no one safe?
Don't be a hater
I can't forget Matt Prater. Kickers are people too. After a rocky start, Prater has been solid and consistent for the past two seasons. However, with the exception of a few, how long to do kickers really last on a team? The wind still blows through the hole Jason Elam left in my heart (and wallet).
Help is around the Corner
There's a slew of young defensive backs to choose from, Perrish 'I got Potential' Cox, Alphonso 'I swear I'm better" Smith, Syd'quan 'Just call me Sid' Thomspon, and Tony 'Give me a chance' Carter.

Is is too late to get a Champ Bailey jersey? Or would I just be punching his ticket out of here? 
Brown Hair
Knowshon Moreno almost rushed for 1,000 yards last season behind an ailing offensive line and while sharing carries with Correll Buckhalter. This Georgia super star showed glimpses of greatness when he could get his feet underneath him. I think Moreno is primed for a great year if you can sustain his health and fitness for a full 16 games. Is that enough to win over my $80?
Beating the system
If all else fails I will use my powers for good.
 
I know I left a lot of players out, but it's up to you to fill in the blanks for me. This is a big decision among fans (potentially catastrophic for me), so let's here your stories and opinions.

Loading ...