Posted Wed Sep 9th by Monty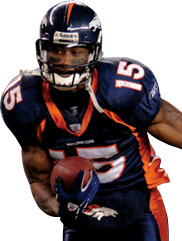 Hours after news broke that the team signed starting outside linebacker (and 2009 team captain) Mario Haggan to a two-year contract extension, the Denver Broncos are reportedly in talks with wide receiver Brandon Marshall on the very same topic.
Hallelujah? Hallelujah.
Marshall, one of the league's most productive receivers over the past two seasons, has been unhappy with his contract for some time. The team has been reluctant to sign the fourth-year player after multiple off-field incidents led to a one-game suspension in 2008. Marshall's hip injury, which required surgery in the offseason, couldn't have helped, either.
The discord seemed to culminate two weeks ago, when Marshall was videotaped openly rebelling during practice, punting footballs and smacking away passes. The Broncos responded by hitting him with a one-week suspension for conduct detrimental to the team.
Since then, Marshall has apparently cleaned up, even seeking out Broncos legend Rod Smith to help him get in shape both in body and mind. Head Coach Josh McDaniels recently described Marshall's attitude as "great" since his return to Dove Valley Sunday.
Marshall, who is entering the final year of his rookie contract, is scheduled to become a free agent after the 2009 season. The contract negotiations will reportedly try to bring Marshall's pay up to par with some of the best wideouts in the game while keeping the 2008 Pro Bowler in Denver for years to come.
That's something both sides can agree on.

Loading ...