Posted Tue Mar 19th by Monty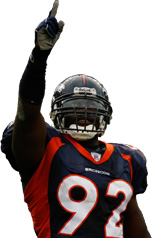 Update, 2:51 p.m. MT: Elway says the team has "made an offer" to Dumervil. Â Your move, Elvis.
Somehow, through it all, the Denver Broncos and Elvis Dumervil are still on speaking terms.
The fax machine relationship clearly wasn't working.
After a second denial by the NFL to reconsider the Broncos and Dumervil's case, and after Dumervil fired his previous agent and hired Tom Condon, the team and their defensive end are still in talks, The Denver Post reports. Dumervil, a free agent, has also heard initial interest from Pittsburgh, Houston, New England, and San Diego, as well as serious interest from Baltimore, who are thought to be the frontrunners along with Denver.
Hiring Dumervil will be a long shot for the Broncos after they took a $4.9 million cap hit to release the three-time Pro Bowler, but as long as they can get creative with the way they structure Dumervil's 2013 money, the possibility still exists.