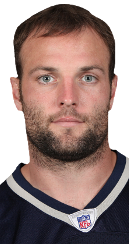 In a move that sent shock waves across the NFL, the Denver Broncos signed former New England Patriots wide receiver Wes Welker to a two-year, $12 million deal on Wednesday afternoon.  The signing, as big as it is for Denver's offense, was also a defensive move.
As team executive of football operations John Elway noted, snatching Welker away from Tom Brady's offense ensures that the Broncos will never have to deal with covering arguably the best slot receiver in the NFL again.  Considering that Brady agreed to restructure his contract to help the Patriots re-sign Welker, we're guessing Brady isn't very excited about the news.
Welker has been elected to the Pro Bowl in five consecutive seasons and his five 100-catch seasons represent an NFL record.  In Denver, Welker will join rising stars Demaryius Thomas and Eric Decker, who both recorded 1,000-yard seasons in 2012.
Paired up with quarterback Peyton Manning, who signed with Denver as a free agent last spring, Welker is primed to break Rod Smith's undrafted receiving record of 849 catches.  Welker currently has 768 career catches and caught 118 passes last season; Manning completed 400 passes in 2012.
The move also makes it unlikely that free agent slot receiver Brandon Stokley will be re-signed, as Welker will be taking Stokley's position.
"I think it absolutely would be a great signing for the Broncos," Stokley told USA TODAY Sports. "He's such a great player, and it would weaken your main competition in the AFC."
The signing will likely cause Stokley, who caught 45 passes for 544 yards and 5 touchdowns last season, to retire after fifteen successful seasons in the NFL.
The news also solidifies Elway as one of the league's top de facto G.M.'s, after drafting Von Miller in Year 1, signing Manning in Year 2 and bringing in Welker this offseason, to the tune of just $6 million a year—a bargain for such a coveted free agent.
The rivalry between Denver and New England—and Manning and Brady—is also flamed by the signing.  The Patriots are among eight teams that the Broncos will play on the road in 2013.
Now that receiver is no longer a position of need, Denver's attention will turn to the secondary and the backfield.  The Broncos are currently looking at Nnamdi Asomugha and Dominique Rodgers-Cromartie and figure to have Eddie Lacy and Montee Ball high on their draft boards.  Who do you think Denver should target next?