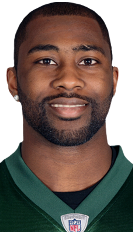 Update:  The team has denied interest in Revis through multiple media outlets.
The New York Jets may be on the verge of trading cornerback Darrelle Revis, and Denver appears to be a potential landing spot for the veteran defensive back.
We have already connected the dots that point to the Broncos being interested in Revis, and on Sunday, ESPN.com's Rich Cimini reported the following:
"The Darrelle Revis camp is pushing for a resolution ASAP — i.e. a trade — because it's concerned about the cornerback market drying up […].

"For those of you on Revis Watch, pay attention to the cornerback signings, starting Tuesday. That could tell us where Revis might be headed. The Broncos have expressed interest, according to a source," Gimini wrote on ESPN's New York Jets blog.
The Broncos apparently want to move Chris Harris back inside in nickel packages and are looking for a proven starter to play across from All-Pro Champ Bailey.  Last week, the team visited with free agent Dunta Robinson, confirming that they are indeed looking at CBs.
Might Revis Island play across from Champ this fall?  Stay tuned…