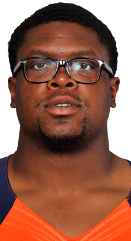 On Friday, the Denver Broncos used their franchise tag on tackle Ryan Clady. Â The one-year tender is worth nearly $10 million.
Per the Denver Post:
The tag gives Clady a $9.828 million salary for the 2013 season—nearly triple the $3.5 million salary he earned in 2012. However, the tag also drastically restricts Clady from enjoying the bidding fruits of free agency.

Teams can still bid on Clady's services, but the Broncos would have the right to match any offer. If the Broncos decline to match the offer, they would get two first round draft picks in return from the team that would sign him.
Yesterday, it was announced that teams have a $123 million salary cap for 2013, leaving Denver with over $17.5 million in available cap space.  After Clady signs his tender (assuming he eventually will), the team will be left with over $7 million remaining in cap space.
Clady is currently recovering from shoulder surgery and is not expected to participate in the team's offseason workouts this spring. Â Clady allowed just one sack in 2012.