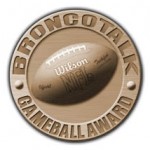 Broncos 26, Raiders 13 — you know what a victory means, fellas. Big Pete provides this week's BT Game Balls below!
Von Miller: The stat line reads 3 tackles, 1 assisted tackle, 1 sack, 1 forced fumble, but what the stat sheet doesn't list, and why after last night's Texans' showing indicates is that Von Miller is the most dominant defensive player in the NFL. Miller had a handful of offensive holding penalties called because he is so unstoppable. Why do I mention that? Because without those holding calls, Miller has 5+ sacks by the start of the 4th quarter, and the game is even more one sided. Miller plays his best when the moment is the biggest. That is why he gets a game ball.
Knowshon Moreno: What can I say? Moreno really impressed me with his outing in Oakland on a short week. He had 119 total yards and a TD. He was excellent catching the ball, and he ran reasonably well. While he is still lacking a short yardage game, he is showing that in all other situations, he is up for the task, and unlike McGahee, Knowshon can actually come up with a critical 4th down catch! Knowshon Moreno, you sir, get a game ball.
Matt Prater: Prater was 4/4 on his field goal attempts, but more impressive than that was that he was 1/1 in the 40 yard range, and hit a borderline 40 yard FG when he connected on his 38 yard attempt. Why does this warrant a game ball you say? Because prior to this game, he was a mere 56% on the season in the 40-49 yard range. In order for the Broncos to be legitimate Super Bowl contenders, Prater needs to be consistent in the long 30-49 yard range. With Prater hopefully screwing his head on straight, he also gets a game ball.
Trindon Holliday: How in the world can a player with only 1 kickoff return, and 1 punt return that he fumbled get a game ball? Simple! It's because this guy is electric! He had 1 chance to return a kick, and he had a 33 yard gain which he was ridiculously close to breaking for a TD. His 1 punt "return" that he fumbled wasn't even his fault. He was getting tackled BEFORE the ball even got to him. Have the refs ever heard of the cushion that returners are suppose to get in order to catch the ball? Holliday was wrapped up and halfway to the ground by the time the ball was "catchable". How the refs allowed that atrocity of a non-call is beyond me.
After that, he fair caught a punt that he very well should have returned, but I think that was more on the coaches telling him to fair catch it than him wanting to fair catch it. Because of that, and because opponents are seemingly game planning around him as much as they do Devin Hester, Holliday gets the final game ball.
Honorable Mentions go out to Peyton Manning, Champ Bailey, Tony Carter, and the "Dream".