Broncos 17, Chiefs 9 — you know what a victory means, fellas. Give out your BT Game Balls!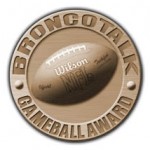 RB Knowshon Moreno.

I will be the first one to say (and most obvious), this guy hasn't had a play of significance since he fumbled back in Week Two. He hasn't had a decent game since Week Thirteen of 2010 (which just so happened to be against the Kansas City Chiefs), when he ran for 161 yards. It became clear throughout the game with an average of 4.2 yards on 20 carries for 85 yards and four receptions for 26 yards.
As the Denver Broncos randomly inserted rookie Ronnie Hillman sporadically throughout the game. Hillman did break one off for ten yards, but was basically worthless for the rest of his carries. What became very apparent as Moreno continued to play was that the Broncos' coaches do not trust Hillman to block and they do not trust Lance Ball to hold onto the ball.
Moreno may be it for us Denver fans, it may be time to stop complaining and learn to love the bomb. Especially since it is becoming apparent that he is the best running back between us and Peyton Manning hurting his neck. I think that the Broncos' coaches agree. — Ian Henson
WR Demaryius Thomas.
On Sunday, Thomas caught four passes for 82 yards and a score—including a 30-yard game-clinching score that he hauled directly in the sunlight. A big play-maker, Thomas has been a wonderful weapon for quarterback Peyton Manning, as the two have emerged as one of the top QB-to-WR duos this season.
On the year, Manning and Thomas have connected 61 times for 1,015 yards, marking Thomas's first 1,000-yard season of his career. His 1,015 receiving yards represent the fourth-most in team history by a player through Denver's first 11 games.
Thomas leads the team in receptions (61), yards (1,015), and yards-per-catch average (16.6) this season. His six touchdown catches rank second on the team, behind only Eric Decker's eight.
With five games left to go, Thomas is on track to post career bests in every receiving category. While giving Thomas his due as an extremely gifted player, his future Hall of Fame quarterback also deserves much of the credit for Thomas's production this season. Which leads us to our next game ball. — Jon Heath
QB Peyton Manning.

Manning completed 22-of-37 passes (59.5%) for 285 yards with two touchdowns and one interception (90.5 rating.) on Sunday, and topped the 3,000 yards on the season while also throwing his 25th touchdown pass the year. Â Per the team, Manning has now topped 3,000 yards passing and 25 touchdowns in every season he has played.
With just three more touchdown passes, Manning will pass former Broncos quarterbacks John Elway and Jake Plummer for the most single season touchdown passes in franchise history (27).  Manning's fourteen 3,000-yard seasons rank second in NFL history.
Additionally, Manning's fourteen seasons with 25+ touchdown passes extends another one of his many league records.
In short, Manning is doing everything right.  And for that, he has earned yet another game ball.  — Heath
DE Derek Wolfe.
Wolfe's contributions do not jump out in the box score stats (3 tackles), but his presence was felt.  The Chiefs' Jamaal Charles did rush for 107 yards, but ultimately, Kansas City's rushing attack did not determine the outcome of the game.
NFL Game Rewind film is not yet available, or I would draw up how Wolfe set the edge on numerous occasions and tracked down runners throughout the game. Â He has a relentless motor and once Denver's defense regrouped itself, Wolfe played very well against the run.