Posted Sun Sep 2nd by Monty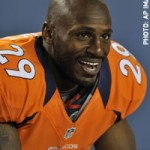 We reported earlier (and due to a stupid technical mistake on my part, that story just published) that three Denver Broncos players landed on other NFL rosters or practice squads since Cut Day Friday. Add a fourth to the list.
Cornerback Drayton Florence, the biggest surprise among the Broncos' cuts, has signed with the Detroit Lions, ESPN reports.
Coincidentally, Florence replaces Alphonso Smith in Detroit, a second round draft pick of the Broncos in 2009 who only lasted one year with the club before being traded to the Lions. Guess the Lions just can't get enough ex-Denver DB's.