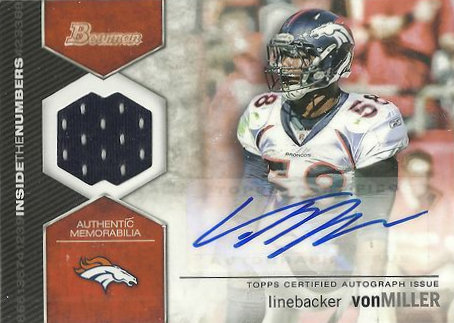 Congratulations to Alex Sisti, who won the autographed 2012 Bowman Signatures Inside the Numbers Auto Relic Von Miller trading card pictured to the right.
Alex entered a contest we held on Monday and after his comment received the most likes, he was announced as the winner Friday afternoon.  Second (Colby Chad Mueller) and third (Eric Price) place commenters will each receive similar autographed cards (pictured here).
"I met Von's mom at the Draft in NYC.  He is my favorite player and it would be great to have this card," Alex commented Monday.  "If you want something corny; Fear of spiders is called arachnophobia, fear of tight spaces is called chlaustraphobia, fear of Von Miller is called logic."
The comment above received 79 +1's, which was enough to win the contest. Â Colby's comment, "Go Broncos! Von Miller is the Man," received 45 +1's, resulting in his second-place finish.
Eric's third-place comment was my favorite, "Red Rover, Red Rover, please send anyone but Von Miller over!" Â Eric received 14 +1's, representing the third-most votes received.
The contest resulted in a few dozen more readers registering to comment on BroncoTalk, and we hope you all will stick around!  We will hold more weekly giveaways on our Facebook page, so be on the watch for those every Monday.
Expect to receive an email from us, Alex, Colby and Eric. Â Well done, guys!