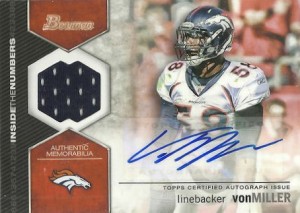 We love our readers here at BroncoTalk so we thought we would show our appreciation by doing a giveaway on the site.
If you follow our Facebook page, you already know that we giveaway trading cards — sometimes autographed — on our page every Monday. Â Those winners are randomly selected, today we're doing something different.
Today, we're giving away an autographed 2012 Bowman Signatures Inside the Numbers Auto Relic Von Miller Denver Broncos trading card.  The blue patch on the card is part of one of Miller's jerseys and his autograph is 100% guaranteed by Bowman.
Basically, it's a swagtastic card.
How do you win the card, you ask?  Simple.  Just comment below and the comment that receives the most blue +1 votes wins the card!
Please note that any comments deemed inappropriate will be moderated.  Be original, be creative, be cheesy.  Just keep it civilized.
The contest ends Wednesday Friday (the 29th) at 6 p.m. (MT) so be sure to get your comment in early for the best chance to win.  Good luck!
Update: Â We've extended the contest until Friday to give more fans a chance to win! Â Also, be sure to +1 some of your favorite comments besides your own — it's better for another Broncos fan to win the card than nobody win it. Â If you are having trouble figuring out our comment system, read this.
No purchase necessary.  Only one entry per person.  Fans of any age may enter the contest.  You must provide a valid email address through your Disqus, Google,  Facebook or Twitter account so we can contact the winner.  If you do not live in the Continental United States, we regretfully ask that you do not enter the contest due to expensive shipping costs.