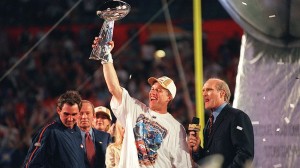 Today is the great John Elway's 52nd Birthday.  During his sixteen-years as a quarterback, Elway led the Denver Broncos to five Super Bowls (winning two), threw for 300 touchdowns, was selected to nine Pro Bowls, was a member of the NFL's 1990s All-Decade Team and won a League MVP (1987).
After his career was finished, Elway's No. 7 was retired by the team and he was inducted into the Pro Football Hall of Fame in 2004.  There's plenty of footage of Elway on YouTube, including these highlights.
Last year, Elway returned to the team as the Vice President of Football Operations.  In his first year, the Broncos went 8-8 and won the AFC West and earned a postseason birth for the first time in over five years.  The Broncos were also the only team in the NFL to send a drafted rookie (linebacker Von Miller) and an acquired free agent (running back Willis McGahee) to the Pro Bowl last season.
Happy Birthday, Elway!  Have a great day.
Your regularly scheduled Daily Links after the jump.