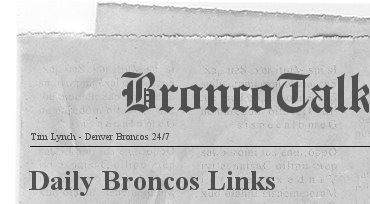 Be sure to follow me on Twitter for more Broncos updates throughout the day.
BT Giveaway: You could win a Von Miller card! | BroncoTalk
How do you win the card, you ask? Simple. Just comment below and the comment that receives the most blue +1 votes wins the card!
Peyton Manning vs. Tim Tebow: Colorado voters weigh in | First & Orange
Tebow received a 68 percent favorable rating as a person, compared to 57 percent for Manning. Tebow had an 18 percent unfavorable rating, compared to only 10 percent for Manning.
2012 Training Camp Schedule Released | DenverBroncos.com
The Broncos announced the 2012 Training Camp schedule on Monday that features 18 practices that will be open to the public free of charge.

Peyton Manning goes to bat for Buick in new television commercial | Denver Post
Peyton Manning has been barking football signals in Greeneville, but not on a playing field. According to The Greeneville Sun, the Broncos quarterback taped a national TV commercial for Buick on Sunday.
Broncos training camp can't come soon enough | FOX31 Denver
Ah, the dog days of summer. In the sports world, it can be very quiet. Right now we have the Rockies, Rapids and Outlaws going on.
Denver Broncos' Training Camp Practices Open To Fans | ABC7 News
The Denver Broncos on Monday released the below schedule for 2012 Training Camp events that are open to the public.
Ike Taylor hasn't forgotten Tim Tebow play that burned him | CBS Sports
The 80-yard touchdown pass Tim Tebow completed to Broncos receiver Demaryius Thomas in the opening seconds of overtime in the AFC playoff game last season has sparked a fair amount of debate around the CBSSports.com water cooler.
New Horsepower Fueling Broncos | DenverBroncos.com
Luke Richesson and his staff bring a new philosophy to the Broncos' strength program.
Strength, Size Help Siliga Stand Out | DenverBroncos.com
Defensive tackle Sealver Siliga, an undrafted free agent a year ago, used this offseason's OTAs and minicamp to make a name for himself on a veteran Broncos defensive line.
First Broncos training camp practice is July 26 | First & Orange
Broncos fans can get their first glimpse of Peyton Manning on the Broncos' practice field July 26, the first day of training camp.
6th Round Success and the Broncos | Mile High Report
In the 2012 NFL Draft, the sixth round encompassed picks 171 through 207. This varies of course year by year due to the Compensatory picks handed out. According to the chart I referred to in the last post, a 6th round draft pick would have about a 2.5% success rate in starting 56 games in his first 5 seasons.
Denver Broncos At San Diego Chargers – Monday Night Matchups | Predominantly Orange
Today the Broncos announced that the 2012 Training Camp will begin on July 26, 2012. That means that next month at this time Bronco Country will be celebrating the start of another new football season.
Video: Ed McCaffrey hosts Dare to Play | Denver Post
Former Denver Broncos All-Pro wide receiver Ed McCaffrey hosts his third annual Dare to Play Football and Cheer Camp for children and young adults with Down Syndrome at Valor Christian High School in Highlands Ranch.