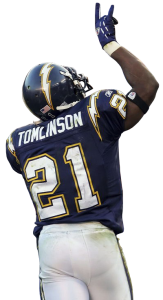 Update (6/24/12, 4:28 p.m.): Â According to reports, Denver never offered Tomlinson a contract, his agent merely contacted the team. Â That makes one wonder, did Tomlinson ultimately decide he couldn't see himself in orange, or did the Broncos make the decision for him?
LaDainian Tomlinson, a future Hall of Fame running back who scored 132 points against the Denver Broncos during a ten-year career, retired a San Diego Charger five days ago without a Super Bowl ring.
In hopes of getting a ring, Tomlinson considered signing with one team — just one — during the weeks leading up to his retirement.
"The only team I really gave a thought to was the Broncos, because of Peyton," Tomlinson told UTSD's Kevin Acee on Saturday, referring of course to quarterback Peyton Manning, who signed with Denver earlier in the offseason.
Tomlinson went on to say that his agent, Tom Condon, talked with Denver and the thought of signing with them made him pause to think, "Was this what I really want to do?  They got Peyton, they have a good defense already; they went deep in the playoffs with Tim Tebow, what are they going to do with Peyton? I seriously thought about it."
At the end of the day though, team loyalty trumped L.T.'s quest for a ring.
"(A ring) was the only reason I considered Denver," he said. "At the same time, I thought, 'How much is a Super Bowl ring really going to do for you at this point?' Because it's not with the team I really wanted to do it with."
Seeing Tomlinson in orange and blue wouldn't have felt right, for fans of either side.  "At the end of the day I was thinking, 'I can't do that.' It's not as bad as being a Raider — but almost."
Granted, he hasn't had a Hall of Fame career, but it would have been nice of Eddie Royal to show the same kind of team loyalty. Â What are your thoughts? Â Would you have liked to have L.T. on our side playing against SD twice a season? Â Or would have it been too hard to swallow?