Posted Tue Jun 12th by Monty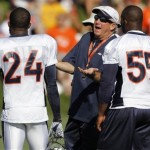 We told you on Friday that D.J. Williams's Twitter mishap won't damage the Denver Broncos' defensive plans this season. Today, coach John Fox said as much.
When asked if the security "breach" would affect the Broncos' defense, Fox replied, "Not very much."
Fox continued, "All our guys do a great job of keeping our fans informed, and you're going to have a couple of mishaps and you move on."
D.J. has an uphill battle when it comes to recouping the approval of Broncos fans, but this tweet really shouldn't be among the ammo used against him. Let's take Fox's advice on this one and move on.