Posted Wed May 16th by Monty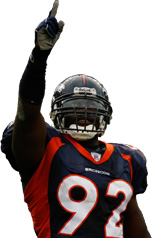 Denver Broncos defensive end Elvis Dumervil's return to the football field in 2011 resulted in a debut on NFL Network's 2012 Top 100 Player List.
Dumervil, who missed the 2010 season with a pectoral injury and therefore the NFL's inaugural Top 100 list a year ago, tallied 11.5 sacks in his 2011 redemption tour. For his efforts, he was voted the 68th best player in the NFL by his peers.
Video of the selection will air on NFL Network and NFL.com tonight.
Earlier in the NFL's Top 100, Willis McGahee was unveiled as Player No. 98. We expect Champ Bailey (No. 48 last year) and Von Miller to still make the list.