Posted Wed May 9th by Monty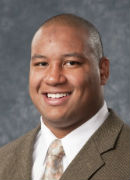 Wayne Tribue
Pos: Guard
School: Temple
Class: Senior
Ht: 6'3″ Wt: 329 lbs.
40-time: 5.06 Bench: 28
Wayne Tribue will probably be alright if this whole "NFL thing" doesn't work out. This 329-lb guard is far from the stereotypical football meathead.
Wayne Tribue has been studying to be a doctor.
"I took the MCATs about a month ago, so we'll see," Tribue told reporters last September. "That's an option, but hopefully I'll still be playing football." Maybe he can play double-duty as the team's medical trainer in 2012.
A veteran of four seasons at all three interior OL positions, Tribue found a home at right guard in 2011 and started there the entire season for the Owls. Before that, he moved around Temple's interior OL, often splitting work between left guard and center in his four-year career. NFP called him "one of the most underrated offensive guard prospects in the nation" and raved about his quick initial step and willingness to finish in all aspects of his game.
Scouting Reports: NFP, DS, TU, Broncos
Camp Competition: Zane Beadles, Chris Kuper, Manny Ramirez, C.J. Davis, Austin Wuebbels
Camp Outlook: The road is uphill for all of the Broncos' undrafted rookies, and the competition at guard is no exception, especially with impressive fellow UDFA Austin Wuebbels also vying for a spot. Where Wuebbels sounds raw, mean, and strong, scouting reports on Tribue suggest he is more the technician. Guard may be one of the more overlooked positions in training camp, but we're truly excited to see how this camp battle pans out.
Career Statistics
Year
GP
Starts
2011
13
13
2010
11
6
2009
13
5
2008
12
9
Totals
49
33
BroncoTalk's undrafted rookie reports are compiled by examining second-hand scouting reports, news articles, and, when available, film footage of the Broncos' undrafted rookie. Tribue is one of 13 undrafted free agent rookies the Broncos will bring in to compete in their 2012 training camp.