Posted Wed Mar 14th by Monty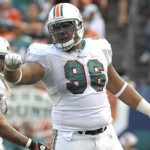 UPDATE: ESPN reports that Soliai has indeed signed with the Dolphins.
The biggest-named free agent reportedly on Denver's radar — well, other than that one — may not even make it to Dove Valley.
Nose tackle Paul Soliai is close to signing a contract with the Miami Dolphins, according to multiple reports that broke late Wednesday afternoon. Soliai (6-4, 355), who earned his first Pro Bowl with the Dolphins last season, was scheduled to visit with the Broncos Thursday.
If Soliai signs Miami's dotted line, re-signing Brodrick Bunkley becomes all the more imperative for Denver. But two top-tier defensive tackles are better than one. Hopefully the Broncos can sway the 355-pounder to at least visit Mile High Country before he comes to terms with his former team.