Posted Fri Mar 9th by Monty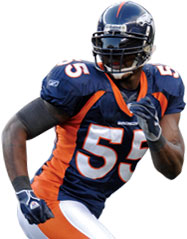 In the midst of the Peyton Manning media circus at Dove Valley, a new shoe has dropped: two three Denver Broncos players are in serious trouble.
Linebacker D.J. Williams and defensive end Ryan McBean have each received six-game suspensions from the NFL for violating its Substance Abuse Policy, Vic Lombardi of CBS4 reports. Both plan on appealing their suspensions with federal lawsuits.
Tight end Virgil Green has also received a four-game suspension.
Lombardi expands: "The more I learn about this, I think McBean and DJ have a good reason to file a lawsuit." Lombardi broke the Green news moments later.
Williams has two years left on his six-year deal he signed in 2008. McBean will be a restricted free agent in 2012. Green was a 7th round draft pick of the Broncos in 2011.
We'll have more as it comes.