Posted Tue Feb 21st by Monty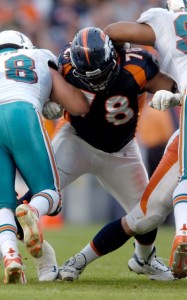 Name: Ryan Clady
Height, Weight: 6'6″, 315
Position: Tackle
Age, Experience: 25, 5
College: Boise State
Ryan Clady came into the league with some big shoes to fill. With longtime Denver Broncos starting left tackle Matt Lepsis retiring after 2007, the Broncos used their first round draft pick on Clady and saw immediate results: he started from Day One. Clady was voted an All-Pro in 2008 and 2009 and a Pro Bowler in 2009 (snubbed in 2008) before an early offseason knee injury nearly derailed his 2010 season. Clady didn't miss a game, but his performance suffered, especially in the early weeks. His 2011 season was inconsistent, but he made his second Pro Bowl appearance as an alternate, making him the third tackle in league history to start every game and make at least two Pro Bowls in his first four NFL seasons.
2011 Analysis: Despite making the Pro Bowl, statistically, 2011 was Clady's worst year as a pro. According to Stats LLC, Clady committed seven holding penalties and yielded nine sacks in 2011. (In comparison, he had all of six holds and 16 sacks allowed in his previous three seasons combined, and only one hold and half a sack allowed in his rookie season). Part of that can definitely be attributed to the switch to quarterback Tim Tebow — Clady and the rest of the Broncos were simply asked to block a lot longer than they ever had been before. The offensive line gelled at times and struggled at others, Clady included, but overall it's hard to be disappointed in any unit that produces the number one rushing offense in the league.
Contract Status: Signed through 2012; Free Agent 2013
2012 Outlook: It's a contract year for Clady — he may never return to his record-setting rookie form, but you can still expect the typical upswing in production from a player the year before he is set to hit the market. Another year with the same offensive linemen next to him should also do Clady wonders in 2012.
As always, we invite you, the readers, to participate. Are you disappointed in Clady's recent performances, or do you still consider him one of the elite players on the Broncos' roster?

Loading ...
We hope you enjoy these posts as BroncoTalk develops a one-of-a-kind fan-powered Denver Broncos roster on the web.