Posted Fri Sep 16th by Monty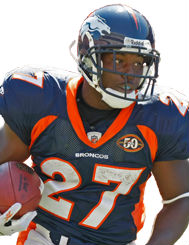 Fantasy football and Denver Broncos update: It's Willis McGahee's time to shine.
Starting running back Knowshon Moreno is officially listed as "questionable" on the Denver Broncos injury report against the Cincinnati Bengals. But it doesn't sound like the coaches truly consider him a 50-50 play.
Practice squad running back Jeremiah Johnson told the Denver Post he has been informed the Broncos will activate him for Sunday's game, suggesting Moreno won't go. Johnson, a 2nd-year player out of Oregon, had 16 rushes for 64 yards (4.0 average) in the 2011 preseason.
But don't consider McGahee a necessary sure-start. The Bengals have a tough front four on defense, and the Broncos' OL has yet to prove it can get the job done in run blocking, as Denver Post fantasy columnist Cecil Lammey reminds us.
Still, we'd be floored if Moreno suits up Sunday. This does bump up McGahee's fantasy stock simply being the feature back and gives Broncos fans a better chance to see the return of a Mile High tradition. Lance Ball and Johnson will provide RB support for Denver.