Posted Fri Jan 21st by Monty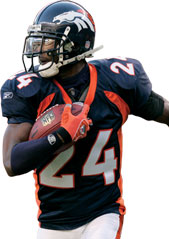 In our mind, the question that will have the biggest impact on the Denver Broncos defense in 2011 isn't, "Who's the next defensive coordinator?" It's, "Will Champ Bailey be coming back?"
Hear us out. Unless one of the Broncos' choices for defensive coordinator turns out to be a stellar hire who shines above the other candidates, the difference between Wink Martindale or Dennis Allen or someone else at the helm is negligible in my mind. John Fox, a defensive-minded head coach, will have a lot of input either way, and we're confident in whomever he chooses.
Champ Bailey's presence — or absence — would be profoundly felt across any scheme.
To that end, the Denver Post's Woody Paige drops a notable nugget in his latest mailbag:
Fox and Elway have been tap-dancing around Champ. A lot hinges on the collective bargaining agreement. But I have it on good authority that Champ, who wants to come back, will be signed to a four-year deal, think $42 million, or will be designated franchise player for next season.
Interesting note Woody. So we at BroncoTalk dug deeper.
After our own Jon Heath DM'ed FOX anchor Josina Anderson on Twitter, Anderson touched base with Bailey's agent, Jack Reale. Reale said, "there has been no contact from the #Broncos since before the season ended."
Now, recall John Fox's comments on Champ from his head coach introductory presser —
"I think right now at this point in the process, it is a little bit hard. We do have a pretty fluid schedule moving forward, with some of the (Collective Bargaining Agreement) things… I think now it is too early to say, other than that he is held with great respect — both in the community of Denver and by the Denver Broncos."
Reading between the lines, it seems clear that the Broncos would like to re-up Champ's contract and keep him in Denver, but way, way, way too much depends on the CBA dispute and imminent lockout. Woody even said it himself, "a lot hinges on the collective bargaining agreement."
We'd say it all hinges on that, and right now that situation is looking grim. So we figure that, yes, there is a light at the end of the tunnel. But that light is getting dimmer.
Woody's Mailbag: Dissecting the Broncos' John Fox hiring, and a few predictions [Denver Post]