Posted Wed Nov 17th by Monty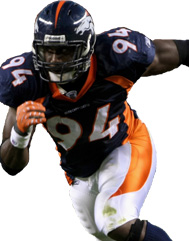 After nearly four seasons in Denver — four seasons that were at times controversial, at times promising, but always ultimately disappointing — the Denver Broncos have released linebacker Jarvis Moss, head coach Josh McDaniels announced Wednesday.
Moss, the Broncos' 2007 first round draft choice, finishes his Broncos career with 3.5 sacks in 34 games played (one start). His last sack was over two years ago — in Week 9 of 2008 against Miami, in which he registered two sacks. It was his only multi-sack game.
"Jarvis has tried to do everything we've asked him to," McDaniels said. "For a number of reasons… it hasn't been a perfect fit."
Heading into training camp in 2010, Moss was expected to compete with 2009 first round draft pick Robert Ayers for the starting outside linebacker position opposite Elvis Dumervil. After Dumervil was lost for the season with a pectoral injury, Moss was given every opportunity to take the starting role. He couldn't get it done.
His 2010 campaign to date was mostly irrelevant. In this, the final year of his contract, Moss had registered a measly two tackles in nine games played.
Ultimately that led to the team taking a look at linebacker David Veikune, a 2009 second round draft pick of the Cleveland Browns. Veikune was signed to take Moss' place Wednesday.
There was little chance Moss' contract was getting extended past this season, so the move isn't altogether shocking, but it rings with somber, hollow finality. It was always about the money with Jarvis, but still, we join McDaniels in wishing Jarvis the best…