Posted Thu Sep 23rd by Monty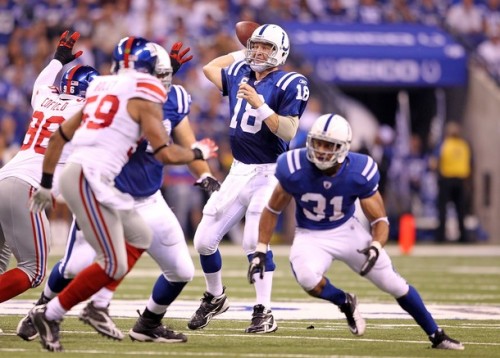 As fans of Football Outsiders, every week we'll hit up the smarter stats for some perspective on what the Broncos can expect from that week's opponent. Recall that negative percentages are good on defense, bad on offense and special teams.
Pass Offense: 61.4% (2nd)
Rush Offense: -0.4% (13th)
Analysis: We've discussed the exploits of Peyton Manning and Reggie Wayne at length over the years here, but, while we've always been sure to give tight end Dallas Clark a solid mention, we've never given him the attention he deserves. Consider this highlight reel of his accomplishments last season a step in recompensing that oversight:
What becomes immediately clear: Clark is the best tight end in the game right now. He runs extremely crisp routes (see 1:17)… he has underrated speed (1:56)… he has phenomenal hands (3:40)… and he and Peyton Manning have developed quite a chemistry. You'll see Peyton improvise, direct Clark in the open field, and connect for big gains. Manning is able to deliver drive-sealing throws to Clark in the tightest of windows.
There is no easy solution to contain Dallas Clark. Even Champ Bailey got beat by Clark in one-on-one coverage last year, so even if Champ was surely playing (which he might not be), simply putting #24 on #44 isn't a solution. The Broncos need to commit safety or linebacker help (Wesley Woodyard) in addition to corner coverage on Clark to limit his touches.
Of course, Reggie Wayne demands double coverage, so at certain points the Broncos will have to pick their poison. Above all else, getting into Peyton Manning's face (and, hopefully, into his head) with a consistent pass rush will be the Broncos' only hope to stem this pass offense's tide…. Wink needs to get into the crazy pages of his playbook this week.
Pass Defense: -17.9% (9th)
Rush Defense: 40.8 (32nd)
Analysis: As good as the Colts' passing offense is, guess which one NFL team ranks higher in passing VOA? That would be your Denver Broncos.
The question is, how do the Broncos exploit this?
It won't be easy. The Colts' pass defense is pretty damn good, led by speedy defensive linemen Robert Mathis and Dwight Freeney, who already combine for six sacks on the season. Zane Beadles is expected to start at right tackle, and Mathis had a field day against New York's right tackle last week.
"Those two players may be smaller than some other ends in the league, but I don't think they're any less powerful," McDaniels said Thursday. "They generate so much speed in a short area in a quick amount of time that they can shock you with how powerful they can be in that short area."
Perhaps a consistent ground game is the answer? Keep the Colts off the field? When asked how one controls the tempo against Indy, McDaniels simply replied Thursday, "I think it's important to score." He pointed out that the Miami Dolphins boasted a time of possession edge of 30 minutes against Indy last year (45 minutes to the Colts' 15) and still lost. The Broncos won their time of possession battle last year as well and lost.
"I think there are a lot of teams that control tempo, but don't control the score of the game," McDaniels said.
So if the Broncos commit to the run to keep the ball out of Manning's hands, they'll be lining up in two tight end sets, limiting their options in the passing game. No, the Broncos need to play to their strengths, even if it plays to Indy's: they need to sling the ball around.
What will be crucial on both sides of the ball is red zone opportunities. The Broncos need to come away with touchdowns when they're in the red zone. They need to limit the Colts' points in the same area. Both teams looked prime to churn out yardage — it'll be whoever gains the edge in the red zone that will be the victor.
Special Teams: -4.8 (25th)
Analysis: The Colts are average in starting field position (16th in the league at the 29.5 yard line) but boast the 2nd-best average drive yardage. They know how to move the football, but pinning the Colts back deep increases the Broncos' defense's opportunity to make plays and goad Manning into mistakes. Watching Seattle, it was clear Denver isn't going to consistently stifle opponents defensively — but they can make the most of their opportunities (see three interceptions by three defensive backs).
(Photo credit: Getty Images)