Posted Wed Apr 14th by Monty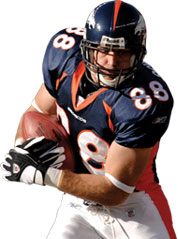 Tony Scheffler, come on down! You're the next contestant on Sign your Tender, Get Traded!
The Denver Broncos tight end is hoping recent history repeats itself. Hours after Brandon Marshall was traded to the Miami Dolphins following the wide receiver signing his restricted free agent tender Tuesday, Scheffler has decided to sign his one-year deal to that same end, the Denver Post's Mike Klis reports.
Scheffler has been reportedly unhappy with his role in Head Coach Josh McDaniels' offense. He totaled 416 yards in 2009, nine less catches and 229 less yards than his 2008 production, where he played in two less games.
McDaniels benched both Marshall and Scheffler for the Broncos' season finale against the Kansas City Chiefs in December, citing a need for disciplinary measures. It was well-speculated that neither would play for the Broncos again. This is a big step to that speculation becoming a reality.
Klis notes that Scheffler has led tight ends with 13.7 yards per catch since he entered the league in 2006, and the Broncos are hoping to net a third round draft pick for his services.
The market for Scheffler won't be as loaded as Marshall's was, but the Broncos are now free to talk to teams about potential compensation. Look for Tony to be moved by the draft or sooner.