Posted Sat Mar 6th by Monty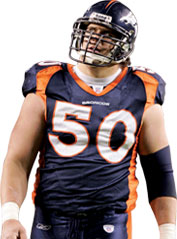 Ben Hamilton
Unrestricted free agent Denver Broncos offensive linemen Ben Hamilton and Casey Wiegmann are drawing some interest in the open market. However, at just under 48 hours into free agency, neither has converted a visit into a new contract.
Hamilton is scheduled to visit with the Seattle Seahawks (who are also hosting Broncos restricted free agent WR Brandon Marshall), and, according to the Denver Post, is drawing interest from other teams.
Meanwhile, Wiegmann visited with the Washington Redskins and new head coach Mike Shanahan. He left town without a contract, according to the Washington Post. Wiegmann earned a career-first Pro Bowl selection in his one year under Shanahan in 2008.
Hamilton (32, 6'4″, 290 lbs.) and Wiegmann (36, 6'2″, 285 lbs.) were both allowed to hit the open market as Broncos coach Josh McDaniels worked to fully realize the offense's transition from the zone-blocking scheme of the past to his power blocking scheme, which values bigger linemen. Both size and age contributed to the decisions to let Hamilton's contract expire and to release Wiegmann in February.
Hamilton was the longest-tenured Bronco, playing exclusively in Denver in his 10-year career, while Wiegmann joined the squad via free agency in 2008 after several years with the Kansas City Chiefs.
Surprised to see Wiegmann left the Shanaskins without a contract. Washington recently signed center Casey Rabach, which certainly contributed to that decision, but still — Wiegmann is an obvious fit. Keep it locked at BT as we'll keep you posted on these and other former Broncos throughout free agency.
OL Casey Wiegmann visits Ashburn, leaves without contract [Redskins Insider]
Hamilton visiting Seahawks [All Things Broncos]