Posted Sat Mar 6th by Monty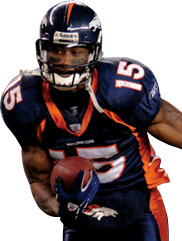 Brandon Marshall may be visiting the Seattle Seahawks Saturday, but don't expect him to leave the Emerald City with a shiny new contract offer, ESPN reports.
At least, not today.
Marshall is not expected to sign an offer sheet Saturday with Seattle, league sources told ESPN NFL Insider Adam Schefter.

The visit is not meant as an immediate step toward a signing; rather it's a get-to-know-each other visit in a process that is not expected to be quick.
That's all well and good, but the Seahawks wasted no time in bringing Marshall in for a visit. It wouldn't surprise us if things in the Northwest heated up quickly — especially if Marshall begins visiting other teams, too.
In the meantime, though, the longer it takes for a team to bite on Marshall, the less likely it appears that 6th overall pick would be heading Denver's way.
Sources: Offer not imminent [ESPN]