Posted Thu Nov 5th by Monty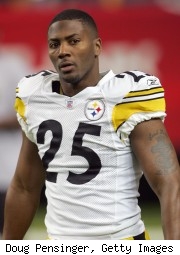 When it comes to Denver Broncos-exclusive reports, new NFL Network insider Jason La Canfora is 0 for 1.
We'll give him another shot.
Citing league sources, La Canfora reports that Pittsburgh Steelers safety Ryan Clark, who nearly died the last time he played in Denver's high altitude, will almost certainly not play this Monday when the Steelers travel to face the Broncos for Monday Night Football.
A final decision hasn't been made, and Steelers coach Mike Tomlin has said he wouldn't make any further statements on the matter until Thursday at the earliest, but internally, there is a strong feeling that protecting Clark is paramount. If this was the AFC Championship Game, the Steelers might be more inclined to let Clark make the call, but that is highly doubtful in this circumstance.
Meanwhile, the Pittsburgh Tribune-Review states that Clark is still waiting to decide, and based on the quotes there, we're leaning the other way.
Clark said his wife is at peace with the situation, and no matter what is decided, she knows her husband will return home safe.

"It would be hard for me to play if she would tell me that she didn't want me to play," Clark said. "The decision would've been done if she would've told me that two weeks ago or before the season that she didn't want me playing. We wouldn't even be having this conversation."
Other players that suffer from the same sickle-cell trait have played in Denver (including fellow Steeler Santonio Holmes) and didn't share Clark's reaction… whatever Clark ultimately decides really wouldn't surprise us either way.
Steelers likely will protect Clark, sit him vs Broncos [NFL.com]
Clark's status still unknown [Pittsburgh Tribune-Review]
Altitude could keep Pittsburgh's Clark out of Monday Night Football [BroncoTalk]