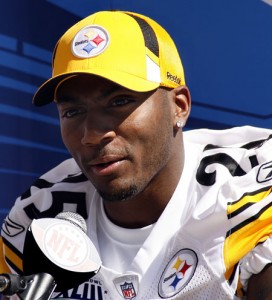 Steeler safety Ryan Clark almost lost more than the game last time Pittsburgh played in the mile high city, he almost lost his life.  Clark has a sickle cell disease that attacked his gall bladder and spleen back in 2007 due to complications from playing in the altitude and both organs had to be removed.  Many players on the Steelers' roster have sickle cell traits, along with many players in Broncos team history, but never has a player run into this type of serious complication.  Clark's doctors surmise that it's due to a combination of the sickle cell and a past medical condition.  After having his season ended that night, Clark lost 30 pounds in recovery.
Now he has to decide if he feels comfortable enough with his situation to play Monday night.  His doctors have cleared him to dress but cannot promise him that the symptoms will not return with the addition of  physical activity.  The safety will travel with the team to Denver, and make a decision whether to play or not leading up to the game. 
"He almost lost his life the last time we played there, so it's kind of unfair to say I would or wouldn't [play] because I didn't undergo the torture and the suffering he had to go through," – Troy Polamalu
Hines Ward along with other teammates have stated publicly that they hope Ryan decides against playing.  If he does decide to sit, Clark will most likely be replaced by Tyrone Carter or Deshea Townsend.  Carter filled the hole left by Polamalu while he was out for 4 games this season after tearing a ligament during their season opener against the Titans.
A handful of Pittsburgh players along with Ward plan on spending time all week in hyperbaric chambers .  It is speculated by many athletes that it helps them adjust to the altitude along with other added medical benefits.  Using a chamber was a long time regiment favorite of Bill Romanowski, along with a tackle box full of supplements.