Posted Mon Oct 5th by Monty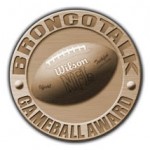 Broncos 17, Cowboys 10. Game ball time, BT Staff, who ya got?!

The general opinion among Broncos fans regarding Champ Bailey had shifted. He had "lost a step." He was "getting up there in years." He "wasn't the same." I know I've been guilty of saying such things during game time over the past few seasons, but Champ silenced his doubters yesterday. Two game-clinching passes defensed? Check. Acrobatic-as-hell red zone interception? Check. Yesterday, #24 reminded the NFL why his side of the field is a permanent "No Throw Zone." – Kyle

People will say, "Romo isn't that good". They will try to discredit our defense. "Barber was hurt". Don't listen. Our defense is here. Not here(.), but here(!). We still have NE, PIT, BAL, SD, and until then, we won't be here(.). I was taking a piss during halftime at Sidebar in NYC, a Broncos bar, when asked by a fellow pisser(a Cowboys fan), "Your defense looks good, what did you do?". My response: We hired Mile Nolan & brought in Brian Dawkins. He said Nolan was good but it can't really be Dawkins making the difference. Yes it can. Brian Dawkins is special. We've heard it from every Eagles fan, now it's time to believe it. Solidarity. You take a team with skills(last years team, and give them fire), this is what you get. B-Dawk. Not since Al Wilson have we had a fire burn so strong. – J. Kenneth K.

Call me what you will, I've been feeling like keeping Brandon Marshall out of the offense the way Josh McDaniels has has really been a detriment to our offense. I mean. Jabar Gaffney? C'mon. Yes, Stokes is an awesome receiver, but one of the reasons Royal shines is that Marshall draws serious coverage. With Marshall on the field, he draws coverage and opens up other receivers. And his ability to get yards after the catch means that if it's a real threat, they HAVE to keep extra help back to assist a cornerback that you know won't be able to take him down. That takes away the 8th man in the box. With his ability and willingness to block, he further opens up the run game. Even when the ball isn't in his hands, Marshall changes the game. But for that to happen, the defense has to be scared of him. And for that to happen, he has to make some game changing plays.
Today, Marshall made a game changing play, and he can make the offense dynamic. – E. Halsey Miles

D.J. Williams. Williams has replicated the production of 49ers ILB Patrick Willis who excelled under the tutelage of Mike Nolan. Williams is an athletic player who has found his role working on the inside in Nolan's 3-4 scheme. Williams was credited with 9 tackles, a fumble recovery and sack in today's game and laid out Cowboys wide receiver Roy Williams late in the fourth quarter. There is no doubt Williams is on the way to having a Pro Bowl season. – Christopher D. Hart

I will go with Ryan Clady. DeMarcus Ware's box score says it all:
D. Ware
2 tackles
2 assists
0 sacks
0 ints
1 forced fumble
- Josh Temple

I'm going with Kyle Orton… once again this guy doesn't throw a pick. Despite his questionable throws he keeps Denver in the game. Each week he keeps improving while still not throwing a pick. He may be a game manager, but he's 17-2 at home. I'll take it. – Mr. East

Last but not least,
Elvis Dumervil
. If you don't know why Dumervil deserves a game ball, just
read this
. DOOOOM!
BT Game Balls are brought to you by whoopings of the Dallas Cowboys and McDaniels-Marshall hugs. We credit Sunday's heroes without doubling up. Who got your Game Ball? Take the poll and dish it out in the comments.

Loading ...