Posted Mon Oct 5th by Monty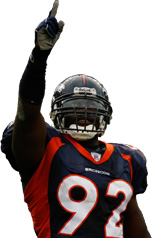 Elvis Dumervil admitted that his transition from defensive end to outside linebacker during the summer left him uneasy.
Consider that uneasiness unjustified.
Dumervil has been unbeatable, unblockable and unstoppable, leading an unbelievable (and unbeaten) Denver Broncos defense to a 4-0 record after the Broncos beat the Dallas Cowboys 17-10 Sunday. He registered two of the Broncos' five sacks, bringing his season total to eight and tying him with Cincinnati's Antwan Odom for the NFL lead.
Perhaps most impressive is the manner in which Dumervil is terrorizing enemy quarterbacks.  Simply put, for offensive linemen, facing Dumervil is like a box of chocolates: you never know what you're going to get.
For his first takedown Sunday, Dumervil showed both athleticism and speed, twisting his body to cut inside Cowboys T Flozell Adams. In the blink of an eye, Dumervil readjusted, found his balance, and exploded in speedy chase of the fleet-footed Tony Romo. Dumervil caught Romo from behind, wrapping his arms around the quarterback's ankles for the team's first of five sacks.
For his second sack, Dumervil took advantage of a mismatch with Deon Anderson, pushing the fullback straight backward into Romo before taking the QB down.
Speed?  Power?  It doesn't matter.  Dumervil has it all.
Ever humble, Dumervil deflected praise to his teammates.
"I've been blessed to be in this situation," Dumervil said. "The defensive scheme is excellent. I've been surrounded with a bunch of guys that are making plays and that makes my job easier."
He hasn't just been dominant in pass rushing, either. He's been making plays in coverage and been solid in open field tackling. Dumervil's transition has been seamless, and there's no doubt he's headed for his first career Pro Bowl.  While Brandon Marshall is obviously deserving of a pay raise, he isn't the only 2006 fourth round draft pick outplaying his contract in Denver.