Posted Thu Oct 23rd by Monty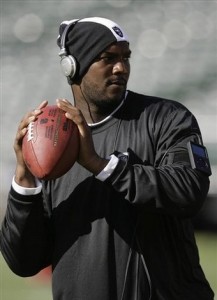 Not Daunte. (AP Photo)
You starting quarterback, Jay Cutler, nearly breaks his finger at the start of an embarrassing loss on Monday Night Football. Your backup QB, Patrick Ramsey, goes on IR. Your third string QB, Darrell Hackney, is a practice squad player who's never taken an NFL snap.
Yeah, you could say the Denver Broncos have some issues at quarterback.
So when Daunte Culpepper announced his un-retirement from the NFL Thursday (Pro Bowl NFC North quarterbacks have that tendency, it seems), people immediately began putting his name in the Broncos' circle. Culpepper released an email to members of the media indicating his retirement was over a few weeks after it began.
Now that there are some real opportunities that match my desire to play, I will choose the one that is the best fit for both the team and me so that I can continue my NFL career. For the second half of this season, I hope to play a role in helping a team win some games.
We all know about Culpepper's past success and his "Could have been MVP" season in 2004. But let's get real. In the past 3 seasons, Culpepper has played in 18 games with the Vikings, Dolphins, and Raiders. In those 18 games, Culpepper threw 13 touchdowns, 20 interceptions, and was sacked a mind-blowing 73 times. Seventy. Three. That's over four sacks per game.
At that point, it's obvious his mobility issues and confidence in the pocket (or lack thereof) have as much to do with the sack total as the offensive line protection.
I'm on the fence on this one. The Broncos could definitely use depth at quarterback, but I'm not a fan of Pep's and really haven't ever been. What do you all think? Is he worth a look, and the price it might take to pry him away from the likes of San Francisco or Kansas City?