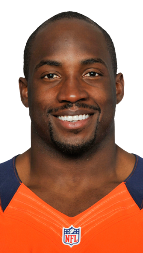 Maybe Elvis Dumervil isn't headed out of Denver after all.
The Broncos and Dumervil's agent, Marty Magid, starting talking again on Tuesday, according to the Denver Post's Mike Klis.
Magid sent back a proposal Tuesday that lowered his client's asking price from $12 million in 2013, but then added that reduction onto his contract in the form of guarantees for the 2014 and 2015 seasons.

Fundamentally, pay cut vs. restructure remains the central issue in the contract disagreement. As it has been since Day One of their re-opened negotiations.

"We're saying the same thing today as we did yesterday: If you can't accept this proposal, then release us," said Magid. "The only thing that's different today is we exchanged proposals."
The Broncos hold all the cards. Â If they plan to release Dumervil before Saturday, they can find his replacement through free agency. Â The team has three days to decide Dumervil's fate.