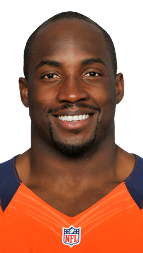 We knew something would happen on the Elvis Dumervil front between now and Saturday, when his $12 million salary becomes guaranteed.  According to his agent, Dumervil would like to be released before the start of free agency:
Magid submitted a counterproposal, but it was more about a restructure than pay reduction. Given the considerable difference in opinion on Dumervil's value, the pass-rushing defensive end is asking the team to release him before the free-agent market opens at 2 p.m. Tuesday, rather than wait until the Saturday deadline with his contract," the Denver Post's Mike Klis wrote on Monday afternoon.
It's hard to fault Dumervil's request. Â If the team is planning to release him on Saturday morning after replacing him in free agency, it would be in Dumervil's best interest to hit the open market before teams use up their cap space on other defensive ends between Tuesday and this coming weekend.
The Broncos hold all the cards. Â All Dumervil can do is await the team's decision.