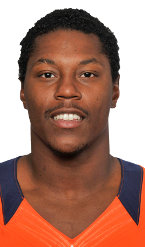 Straight out of the rumor mill comes word that the Denver Broncos may part ways with 25 year old running back Knowshon Moreno this spring.
"Moreno, the 12th pick of the 2009 draft, may be a former Bronco before long. Moreno never has performed up to where he was chosen in the draft, and he has a cap number of $3.28 million in 2013.

"Moreno impressed coaches in 2012 by coming on strong late with two 100 yard rushing games in December and even was voted AFC offensive player of the week, but his tenure in Denver mostly is notable for injuries and fumbles," NFP's Dan Pompei wrote on Sunday morning.
It seems more likely that Pompei is speculating rather than reporting information received from the team, but the latter is possible. Â Either way, Moreno's time in Denver appears to be coming to an end.