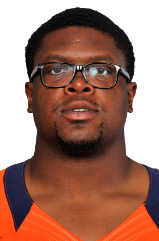 Last week, Broncos starting left tackle Ryan Clady missed practices with a mysterious "undisclosed injury." Â The injury, now known to be a shoulder ailment, has not kept him from returning to the practice field this week.
Per Denver's injury report, Clady fully participated in Wednesday's practice. Â With the exception of cornerback Tracy Porter (concussion), everyone on Denver's Wednesday injury report fully participated in today's practice.
The Broncos' timing of regaining (close to) full health is impeccable; Denver will host Baltimore in the Divisional round of the playoffs on Saturday at 2:35 p.m. MT.  The game will be called by Greg Gumbel and Dan Dierdorf on CBS and Bill Vinovich will be the referee.
Clady not having to miss the game is huge for the Broncos.  With guard Chris Kuper also back, Denver's offensive line will have all five of their starters ready for Ray Lewis' retirement party this weekend.