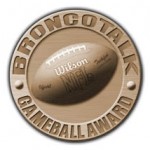 Broncos 31, Bucs 23 — you know what a victory means, fellas. Give out your BT Game Balls!
Von Miller and Mitch Unrein, two Defensive players score touchdowns! — Scott Rockhold
Demaryius Thomas! Dude went beastmode out there. — Dustin Gale
Von Miller and Peyton Manning get my balls (no homo).  That pick-six by Von was hella exciting, and Peyton for rallying in the third. — Jireh Rowden
Can't forget Britton Colquit. Amazing job today. — Kyle Obergfell
The whole team! — Richard Larcom
We did something a little different this week, asking our Facebook fans to provide the Game Balls. Â Unless it receives an overwhelmingly positive acceptance, this method will only be temporary.