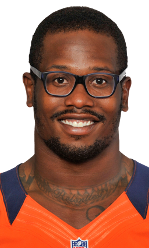 As we continue our new weekly series, Between the Numbers (BTN), we will be evaluating where some of Denver's biggest stars stand in comparison to the rest of the NFL. Today, we'll look at OLB Von Miller.
Miller has recorded seventeen tackles for loss this season, tying for the most in the NFL (along side Houston's J.J. Watt). Â Here's a look at how he stacks up against the rest of the pass rushers in the NFL:
| OLB Von Miller | Tkls | Sacks | TFL | FF | PDF |
| --- | --- | --- | --- | --- | --- |
| Totals: | 33 | 9.0 | 17 | 1 | 1 |
| League Rank: | N/A | T-2nd | T-1st | N/A | N/A |
As is evident from Miller's statistical standings above, Von has frequently found his way into opposing team's backfields this season. Â Just 1.5 sacks behind J.J. Watt, Miller could put himself into Defensive Player of the Year conversations by increasing his sack and tackle for loss totals in the second half of the season.
What have you thought of Miller's performance through the season thus far? Has he lived up to your expectations?