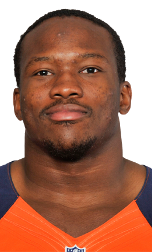 We found out on Monday that Denver Broncos middle linebacker Joe Mays would miss the rest of the season due to injury. Â On Tuesday, the team officially placed the fifth-year linebacker on the injured reserve list:

Mays had lost his starting MLB job to veteran Keith Brooking earlier in the season but remained a special teams contributor and had played in select defensive schemes since he lost his starting job in Week 5 of the season. Brooking will remain the "MIKE" (MLB), with Von Miller the "SAM" (OLB) and Wesley Woodyard the "WILL" (OLB).
"We're going to miss Joe," teammate Woodyard said on Monday. "Things definitely won't be the same without having him out there, his presence, his leadership and his ability to go out there and make plays."
Mays has been known throughout his career for dishing out enormous hits.
As of 10:43 a.m. MT, the Broncos have not made a transaction to replace Mays' absence on the active roster.  Expect a signing or practice squad player to be promoted within the next few days.
We wish Mays the best. Â Heal up quickly and get back out there, Mr. Thumper.