Posted Tue Oct 16th by Monty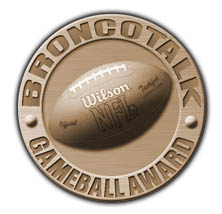 Broncos 35, Chargers 24 — it's historic, epic, in-your-face Philip Rivers Game Balls time.

Tony Carter – I tweeted after Carter's interception that, win or lose he got my game ball. I know we don't normally give game balls for losses, but I was willing to make an exception for him. Luckily I don't have to. This is Carter's fourth year in the league. Believe it or not, he was with the Broncos in 2009 and 2011 (he spent 2010 with the Patriots) and barely saw the field; in all 3 previous years, he saw action only in the last few games of the season, meaning he was almost certainly an injury replacement for someone else. He barely made the team this year, but he flat-out outplayed the former charger Drayton Florence and made the team despite the $1.5 million (rather foolishly) invested in Florence. The only reason he was even active is that Tracy Porter couldn't make the trip due to an illness that made him too lightheaded to play.
And while I don't want to say It Was All Him, he sure did make the most of the opportunity on the Monday Night Lights. He scooped up the fumble and ran it back for a touch down, and then he steps in front and picks off Rivers at a critical moment. He only logged two tackles, but thanks to excellent play from the pass rush, he benefited from his good coverage. I am not going to agree with the tweets that say Tracy Porter lost his job, but I sure feel more comfortable knowing that our depth at corner has some ability to play. — E. Halsey Miles

Peyton Manning – We can't allow ourselves to be numbed by continued greatness from Peyton Manning, not to the point where we fail to acknowledge it. He completed all but one pass in the second half. When the Broncos needed him to be perfect, he was, and his pass to Brandon Stokley in the right side of the end zone really was. – Monty

Jack Del Rio – Last week, the Broncos defensive backfield seemed to just let the Patriots wide receivers and tight ends run untouched from the line of scrimmage. It felt like it was just easy pass and catch for Tom Brady and company. I found myself screaming at the television to jam the effing wide outs. Jack Del Rio must of heard me (right? haha), cause the Broncos defensive backfield on Monday night was physical at the line and disrupted the timing of the receivers all night long.
Del Rio didn't just do that, he also taught them how to force a turnover. Champ Bailey needs to start taking some notes, even though wide receivers rarely catch a ball thrown his way anyhow. All in all, the Broncos defense was dominating all night long, even down 24-0 – I only blame the defense for 7 of those points. There is going to be several more Broncos blowouts in the coming weeks people, so enjoy the ride!
Oh, and Elvis Dumervil is still elite, in case any of you were doubting him. — Tim Lynch

Wesley Woodyard — There was a report just before the game via Denver's 104.3's 'D-Mac' that Joe Mays was being replaced at middle linebacker because of a lack of reiteration from the Denver Broncos' defensive play calling to the huddle… Meaning that plays that were being called were not being translated within the huddle, thus veteran linebacker Keith Brooking took over at middle linebacker and Woodyard took over as the mic'ed in linebacker.
Woodyard translated that into what is assumed as great play calling and nine tackles (six solo), all while maintaining a defense that has been reluctant to reign him as the captain of them all… A defense that despite the score gave up one touchdown in which the ball was given to the San Diego Chargers within their own twenty… And only one more score. A defense that allowed no scores in the second half.
Not enough? Hey, he also covered phenomenal tight end Antonio Gates for a bunch of plays in which Gates did not have a reception. I have been reluctant to give Woodyard any credit this season, but this man, a stand-up citizen deserves full credit. A man among men. — Ian Henson

Chris Harris — I was going to give this Game Ball to Philip Rivers, but Chris Harris intercepted it.
Philip Rivers — Oh, never mind. Chris Harris just intercepted it again. – Monty