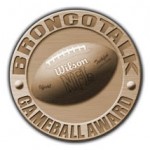 Broncos 37, Raiders 6 — you know what a victory means, fellas. Give out your BT Game Balls!

Eric Decker:
I have been hard on
Eric Decker
basically since he has been a rookie. Whether it was that he was a better punt/kick returner than receiver or that he was only good to catch every third pass that came his way. When I say pictures of him last off-season hanging out with
Kyle Orton
and
Larry Fitzgerald
in Minnesota it basically assured any doubt in my mind that he was just playing teacher's pet.This off-season was no different, the
Denver Broncos
sign
Peyton Manning
, Manning and Decker go on sobatical. The season starts and Decker turns in some atrocious stat lines. Then week three happens, then week four happens. I now declare Decker the real deal, even if he didn't happen to close his thighs on what could have been his second touchdown reception on Sunday.  —
Ian Henson

Dan Koppen:When J.D. Walton went down with an ankle injury early on in the game, there was reason for concern in Denver. Walton's replacement, a veteran named Dan Koppen, discredited those concerns by helping the offensive line protect quarterback Peyton Manning well enough for him to throw for 338 yards and three scores. Koppen was not penalized (that I can recall, but I may be incorrect) during the game and did not allow any sacks. Meanwhile, the entire offensive line allowed zero sacks, marking just the ninth time a team in NFL history to score 37 points and record 500 yards of offense while not allowing a sack or having to punt.
The Broncos' running game also fared well. With Koppen anchoring the offensive line, running back Willis McGahee rushed for 100+ yards for the 32nd time in his career (which is the most among all active running backs). As a team, the Broncos rushed for 165 yards. Despite Walton's absence, the Broncos offense had one of their — if not the — best games of the season, thanks in part to Koppen being able to jump in and play effectively on short notice.  — Jon Heath

Keith Brooking:
Did the defense look better with Keith Brooking at MLB or Joe Mays? Brooking finished with only three tackles and two assists, but I kept noticing him plugging the correct lanes to force Darren McFadden to his second or third option. The Broncos are too fast for that to work for the Oakland Raiders rushing attack. I was hoping to see Nate Irving out there, but after seeing Brooking play sound, fundamental football I'd like to see more. The sad part for me is that coaches rarely bench a veteran after the starters are selected in preseason, so Joe Mays will likely be back at it next week against the New England Patriots.
To back up that sentiment, Mays was the starting middle linebacker last season with essentially the same lineup (D.J. Williams was injured or suspended or something last season too) when Darren McFadden rushed for 150 yards on 22 carries. On Sunday, McFadden 34 yards on 13 carries. With Tom Brady coming to town we probably won't be able to gauge the run defense, but if Stevan Ridley somehow has a big day well then there you go.  — Tim Lynch

Demaryius Thomas:
His second quarter fumble — who knows if it was induced by ghosts, the Buffalo Wild Wings sprinkler system, or Tim Tebow's jealous will — looked to be a potential turning point in the Raiders' favor early in the game. Thomas was visibly upset, as he should have been. The mistake was so brutal and so potentially game-changing that I never would have believed you if you told me I'd be giving him my game ball a day or two later.
But here's the thing: Thomas didn't let his foul-up screw up the rest of his game.
Thomas still eclipsed the 100-yard mark with 103 yards on five catches — averaging over 20 yards per catch. He was hustling every play, and he threw some wicked blocks, especially on Eric Decker's late touchdown. His no-quit attitude showed that the third-year wideout has veteran maturity — something Peyton Manning surely likes to see.  — Kyle Montgomery

Peyton Manning:Vintage Manning performance.  Enough said.  — Jon Heath
There are plenty more game balls where those came from! Â Who gets your game ball this week? Â Let us know in the comments below!