Posted Sun Aug 12th by Monty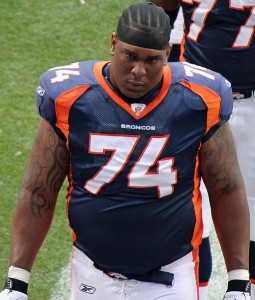 We're reading increased reports of big Orlando Franklin's possible shift from right tackle to a position in the interior of the offensive line, with right guard (somewhat surprisingly) being the most-discussed destination. The idea: move Franklin to right guard, then shift Chris Kuper over to left guard, replacing Zane Beadles. The move would put the Broncos' strongest offensive linemen next to each other on the left side while giving Franklin a better chance to display his wicked mauling blocks on run plays, while offering more leniency in pass protection.
The problem: who plays right tackle?
The Broncos were inadvertently given the opportunity to try out players at right tackle when Franklin suffered a concussion early in training camp. Franklin was out nearly a week; his primary backup was Chris Clark, with former starting right tackle Ryan Harris also seeing some work with the first team during walkthroughs.
Clark looked the part more often than not, while Harris failed to impress in the camp practice I scouted him closely. Still, there are three preseason games left; either one could step up and take Franklin's right tackle job with a couple of solid games.
Another option would be Zane Beadles, who filled in for Harris at right tackle during Beadles' 2010 rookie season.
Franklin saw time at left guard with the second team during Thursday's preseason game, but Mike Klis of The Denver Post reports that there are no plans to make the move permanent.
Still, Beadles has never quite looked the part at left guard, and Franklin had his struggles at right tackle. Should one of these three right tackle candidates step up, don't be surprised if the Broncos slide Franklin one spot over, putting Kuper next to Ryan Clady to help protect Peyton Manning's blind side.
And giving Kuper, who has always been on the cusp of Pro Bowl/All Pro accolades, a better chance in the OL spotlight to earn them.