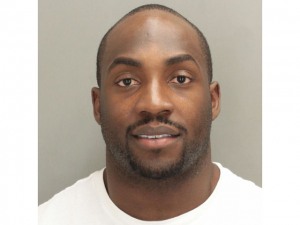 During the league's offseason, no news is usually good news for professional football teams.  When NFL players do make the news during the summer months, it's often means they have gotten into trouble.
That is the case for Denver Broncos defensive end Elvis Dumervil.
According to reports, Dumervil was arrested and charged with aggravated assault with a firearm, a felony, on Saturday night in Miami.  He was later released on $7,500 bond.
"Our organization is aware of the matter and is continuing to gather the facts," the team said in a statement released Sunday afternoon.  "This is a very serious allegation, and we will thoroughly review the details while the legal process runs its course."
According to Dumervil's agent, Harvey Steinberg, no charges will be filed against Dumervil.
"No charges have been filed. No aggravated assault or assault took place. And it is likely that once the full investigation is complete, no charges will be filed against Mr. Dumervil," Steinberg said.
There are few details available as to why the arrest took place, but aggravated assault with a firearm is a third-degree felony in Miami that could lead to a sentence of up to five years in prison.  That is unlikely to happen to Dumervil, however, as charges are not expected to be filed.
This is the second time since 2010 that Dumervil has been accused of assault.  In October of the 2010 season, Dumervil got in an argument with a security guard at Sports Authority Filed—called Invesco Field at Mile High at the time — after he forgot his player ID.  No charges were filed after that incident.
Dumervil, 28, is a Miami native and is entering his seventh year with the Broncos as a Pro Bowl defensive lineman that has recorded 52.5 sacks in five seasons played—he missed the entire 2010 season—and recorded 9.5 sacks last season.
Drafted by Denver in the fourth round of the 2006 NFL Draft, Dumervil quickly emerged as one of the league's top pass rushers and teamed up with Von Miller to record 21.5 combined sacks in 2011.  Under contract through 2015, Dumervil is owed $14 million by the Broncos in 2012.
Because this is the second time Dumervil has been smacked with assault accusations, NFL Commissioner Rodger Goodell may consider suspending Elvis for a few games this season.  If no charges are filed however, a suspension is unlikely to be levied.
It is discouraging to see Dumervil getting in trouble — he is one of the biggest pieces of Denver's defense, next to cornerback Champ Bailey and Miller.  We'll have more on this story as information becomes available.