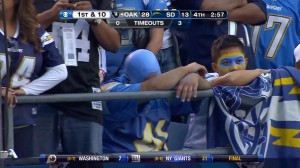 Ah, San Diego. Â How easy you make it for us to mock you.
In a desperate attempt to sell tickets, the Chargers are aggressively marketing to Kansas City Chiefs fans.  Yes, San Diego is trying to fill their stadium with fans of their rival in order to make money.
The Chargers are trying to get Chief fans to buy group packages to their Week 9 game against Kansas City to avoid a blackout.  San Diego appears to be the front-runners to relocate to Los Anglees in 2013; perhaps the club is looking for extra cash to purchase a new stadium?
At any rate, selling tickets to fans rooting for the other team makes the Chargers look like a joke, but their fans don't really seem to mind.
"So what? I don't want blackouts either," one fan commented on BoltTalk.com Friday evening.  "Fill that place up and take their money."
It's hard to say how we would respond in a similar situation, because the Broncos have sold out every home game for 43 straight seasons. Â Since 1960, the Broncos have won fifteen more games than the Chargers and have sold out nearly every game along the way.
So Broncos fans probably don't have to worry about this ever happening to them. Denver fans: 1 — San Diego fans: 0.
On the bright side for San Diego fans, the Chargers will have ten training camp practices open to the public this summer. Â So those fans that don't pay to attend games live can watch their team practice for free in July and watch their team play on TV during the season (non-blacked out games only).
Of course, the Broncos will have eighteen training camp practices open to the public and none of their games are in danger of being blacked out in 2012.
Denver fans: 2 — San Diego fans: 0.
Oh San Diego, your fans must have rough lives. Â We enjoy it though, so don't change a thing.